Nine European Union countries approve Covishield
In a positive development, nine European Union (EU) countries – Austria, Germany, Slovenia, Greece, Iceland, Ireland, Spain, Estonia and Switzerland – have granted approval to Serum Institute of India's (SII) Covishield. This will allow people with Covishield certificates to apply for a "green pass", allowing hassle free travel between these countries. The European Medicines Agency (EMA), EU's top medical body, has approved only four vaccines so far: Pfizer-BioNTech's Comirnaty, Moderna's Covid vaccine, AstraZeneca shot manufactured and sold in Europe as Vaxzervria, and Johnson & Johnson's Janssen. Covaxin by Bharat Biotech is still not on any country's approved list.
Travellers to countries which have not approved Indian vaccines will be required to undergo a mandatory quarantine period on arrival.
Source: NDTV
Smart City Rankings 2020: UP best smart state, Surat/Indore top smart cities
As per the results of the India Smart Cities Award Contest (ISAC) 2020, Uttar Pradesh (UP) has been adjudged as the best smart state in the country. Madhya Pradesh and Tamil Nadu rank second and third. UP was selected as the best state for shortlisting seven additional cities for the smart cities program apart from the existing 10 cities: Ayodhya, Mathura, Meerut, Shahjahanpur, Firozabad, Gorakhpur and Ghaziabad.
Among, Indore and Surat shared the top spot. Chandigarh was adjudged the best Union Territory.
The ranking framework assessed cities and states on a number of parameters like social aspects, governance, culture, urban environment, sanitation, economy, built environment, water, urban mobility and more.
The rankings were also announced to mark the three years of Union Government's three key and flagship schemes under the Ministry of Housing and Urban Affairs—Smart Cities Mission (SCM), Atal Mission for Urban Rejuvenation and Urban Transformation (AMRUT), and Pradhan Mantri Awas Yojana-Urban (PMAY-U).
Source: Hindustan Times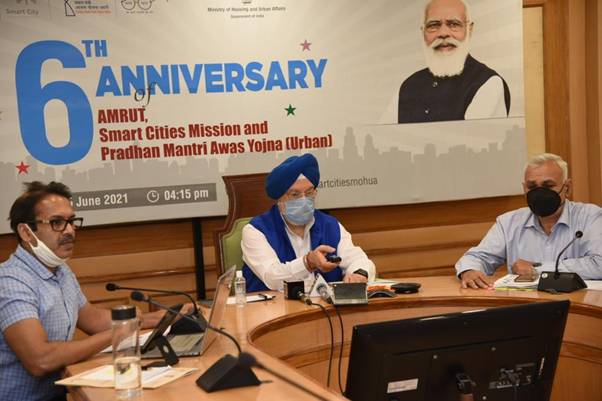 Delhi municipal bodies prepare for the third wave
Three municipal corporations of Delhi have decided to install dedicated Covid Care Facilities for children. The North Delhi Municipal Corporation (NDMC) has decided to convert the Mrs Girdhar Lal Maternity Hospital, a 200-bed facility, into a dedicated child COVID-19 care facility. The facility will have NICU and ICU beds for infants. Initially, the corporation will reserve 70 Covid Care beds for children which will be increased if the situation demands. The South Delhi Municipal Corporation is setting up dedicated child care wards at the Tilak Nagar Hospital. While the East Delhi Municipal Corporation will utilize Swami Dayanand Hospital in Dilshad Garden for setting up two dedicated child care wards with ICU and oxygen facilities.
Source: Livemint
---
Read more: Delhi patients search for COVID beds in smaller towns
---
As cases rise in six states, centre sends two-member team to manage the issues
The centre has rushed special teams to Kerala, Arunachal Pradesh, Tripura, Manipur, Odisha and Chhattisgarh to help them manage the rising number of COVID-19 cases. The objective of these two-member teams, consisting of a clinician and a public health expert, will be to identify the major challenges faced by each state and address them to ensure infection remains in check.
Availability of beds and oxygen, monitoring and surveillance and enforcement of COVID appropriate behavior are some of the major issues which these teams will look.
Source: NDTV
Ensure stray dogs have access to food and water: Delhi HC to RWAs
In an interesting development, the Delhi High Court has ruled that community dogs (stray dogs) have the right to food and that it is the fundamental duty of Resident Welfare Associations (RWAs) and municipal bodies to ensure that stray dogs have access to food and water. The bench also ruled that nobody can stop others from feeding the dogs until and unless it is a cause of nuisance or harassment to the person who is stopping them.
---
Read more: Can RWAs ban pets, feeding of strays during COVID?
---
Feeding of dogs should be done in a designated area. The Animal Welfare Board of India along with RWAs should strictly implement the AWBI Revised Guidelines one Pet and Street Dogs 2015. Any individual having compassion for stray dogs can feed the dogs at the private entrance/porch/driveway of their house or any other place not shared with other residents etc. are some of the other guidelines issued by the Delhi HC.
Source: Bar and Bench
Also read:
Compiled by Rishabh Shrivastava